Untamed and Inspiring.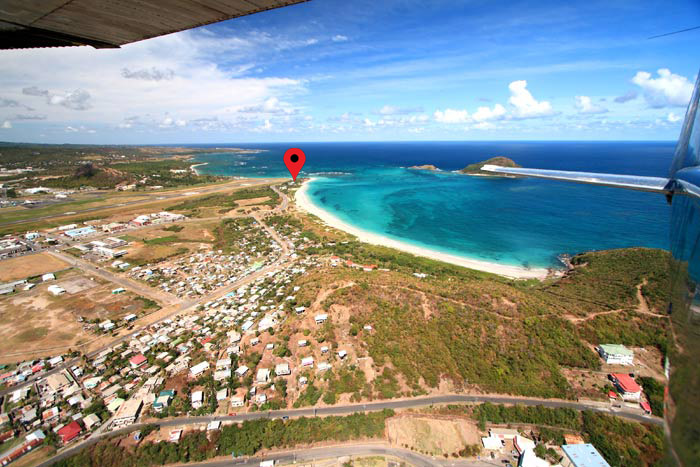 Sandy Beach is renowned for its strong, steady cross-shore winds (from the left). The bay is considered very safe since the beach curves gently into the wind at its downwind end, so that anything floating  is blown back to shore.
Situated well away from the coral reefs, there is nothing sharp underfoot (hence the name), with only a few seagrass beds on the bottom and no rocky areas, the water is always warm at about 27 degrees Celcius (80 Fahrenheit). During the winter months of December to May, the trade winds blow between 15 to 25 knots from the north-east with lighter winds during the summer coming from directions between north-east and south-east. The most commonly used kites sizes are in the 8m -12m range.
Just 1000 yards out to sea lie the twin Maria Islands – windswept and uninhabited, these remain unchanged since Carib Indians roamed the beaches and now provide sanctuary for many unique species of flora and fauna.
In Vieux Fort, St Lucia you may miss participating in the exhilarating ritual morning race for a beach lounger. It is also doubtful that you will come across that characteristic smell of chlorine which so many of us associate with happy holiday memories of days spent by the hotel pool. Finally, you may have to temporarily forego the pleasure of boogying the night away in an air-conditioned disco. Then again, if you´re ready to explore something untamed, the wild natural beauty and innocent enjoyment of freedom found in St. Lucia may be just the kind of original Caribbean experience you need.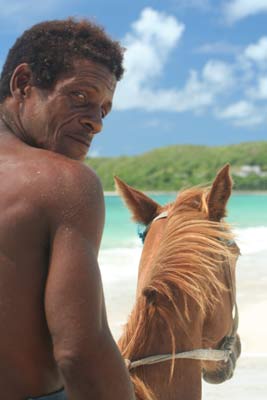 At Anse de Sable (Sandy Beach) in Vieux Fort, early morning light may see a leatherback turtle scurry back into the blue water of the Atlantic Ocean after having laid her eggs.
At noon, the air is thick with the cries of scantily-dressed boys playing football or cricket with a coconut branch and a tennis ball.
And the sun sets on Rastafarians riding bare-back on their small, tough Creole horses in the rolling surf while in the distance, fishing canoes bring home the day's catch.
Night time sees twinkling lights in every rum shop around the island and the excited shouts of men playing dominoes.
Oh, and by the way, Sandy Beach is God´s Own Bay when it comes to windsurfing and kitesurfing. The wide open bay is entirely sandy underfoot and you can ride and practice those new tricks and jumps safe in the knowledge that there are no gnarly reefs, rocks or other underwater obstacles to spoil your enjoyment.
St.Lucia's largest beach
White sand, no rocks, reefs or dangerous currents
An almost enclosed bay
Steady sideshore winds
Need we say more…?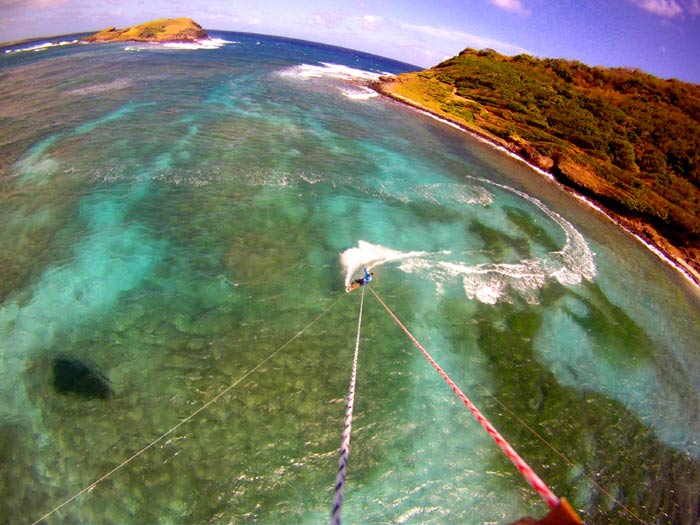 The Reef Kite + Surf center is really easy to find, as it is on the main Castries-Vieux Fort road, approximately 2-minutes drive from Hewanorra International airport and just a short walk along the beach from the Coconut Bay resort .